Ground-breaking Solutions for Pipe Cutting and Finishing
The Exact Concept
The Exact System – Pipe Cutting and Beveling beyond your imagination
Imagine a pipe cutter and beveler that cuts your pipes fast, accurate and safely. The machines are portable, easy to operate and carry around. Appealing multi-award winner design even for your eyes. Is there much more to be asked for pipe cutting and beveling? You can now take the image from your mind into your hands and choose easier and more convenient working with all pipe works with Exact. The choice is yours.
Over the last twenty years, Exact has developed several modern and successful power tools for pipe cutting, beveling and processing. Innovative products from Exact raise the pipe working efficiency to an entirely new level.
Exact pipe cutters are suitable for all kinds of pipe materials
Steel, Stainless steel, Acid-proof steel pipes
Cast Iron, Ductile (nodular cast iron), Cast iron with concrete layer, Glass Fiber pipes
Copper pipes
Ventilation pipes
All kinds of plastics (PE, PP, PVC etc.) pipes
Welcome to the future of Exact pipe cutting where you make more work with less effort & Forget the 100-years old way
A single machine is an all-in-one solution that allows cutting or beveling pipes of greatly differing sizes. Pipe cutting is significantly faster (up to 10 times) as compared to traditional methods. The resulting pipe end surfaces are precise and of uniform quality – the pipes are ready for joining right away.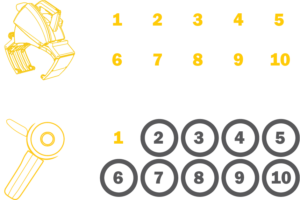 Exact pipe cutters can be used almost anywhere, since in most countries they are approved for indoor use – for example, as compared to angle grinders, the fire hazards are substantially lesser.
Exact pipe cutters are easy to move around and effortless to use, for it is not necessary to support the device while cutting. Since the cutting is fast and does not require strength, the physical work strain is very low.
The ergonomic design of Exact pipe cutters allows avoiding accidents at work and the related absences. Moreover, the risk of developing work strain-related maladies is reduced.
Efficiency and user-friendliness benefit the entire company
Quick and easy-to-use Exact pipe cutters significantly improve work efficiency. The results are of higher quality and achieved faster as compared to former methods. The patented and high-end technology used for the electronics, motors and mechanisms ensure a very high quality, professional solution to meet most if not all requirements for very different type of pipes, jobsites and applications.
The Exact products are designed to be long-lived and easy to maintain. It is quite usual for pipe cutters commissioned ten years ago to still be in daily use.
Everybody wins: the employees feel better at work, the work progress is accelerated, and improved productivity is good for company profits.
Exact pipe cutters represent sustainable development: upon pipe processing, the tools' power consumption may amount to only 15% of that of an angle grinder, and all tool components are recyclable. All in all, Exact pipe cutters and pipe bevelers are developed for professionals who appreciate modern solutions for multiple reasons. Some want to work with less effort, others want to be more productive in the same time window. The list goes on. We all have reasons to upgrade our way of working, but the question is – What is your reason and are you ready for the next level?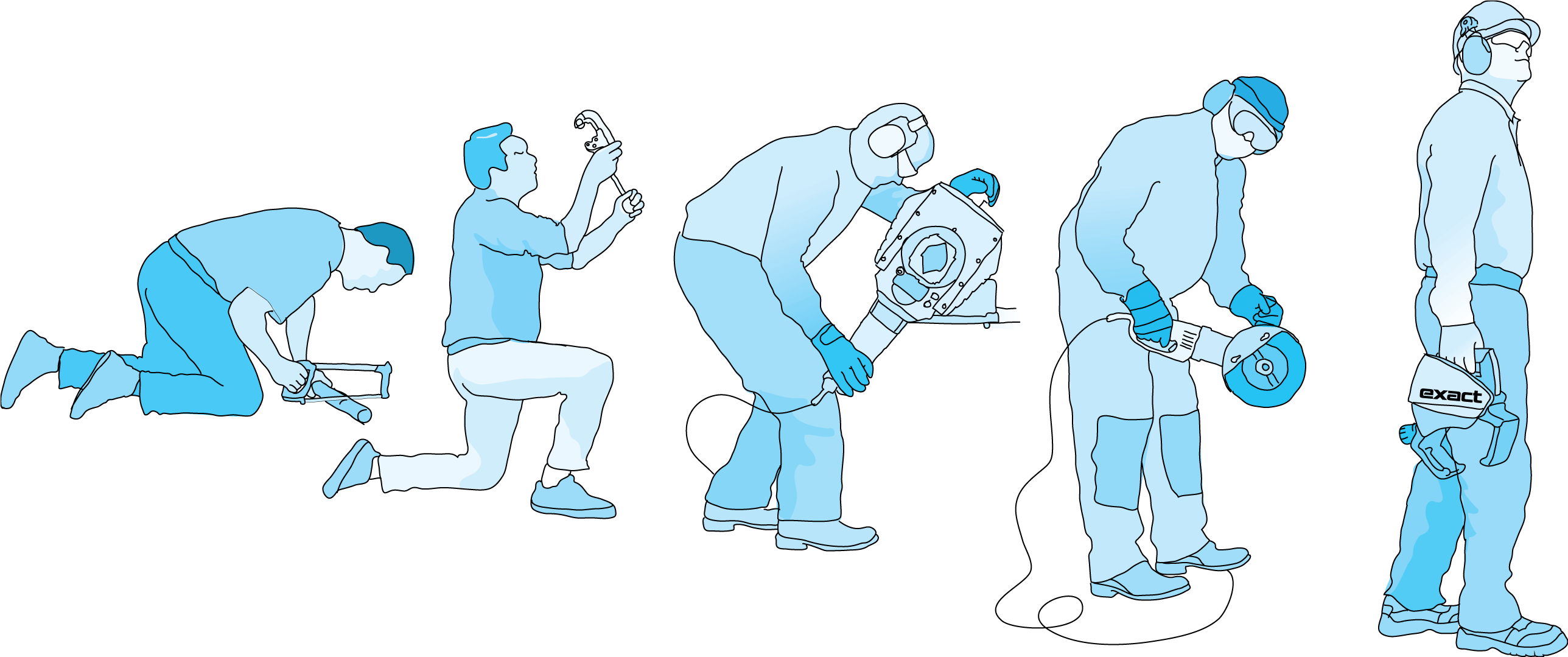 Prizes and awards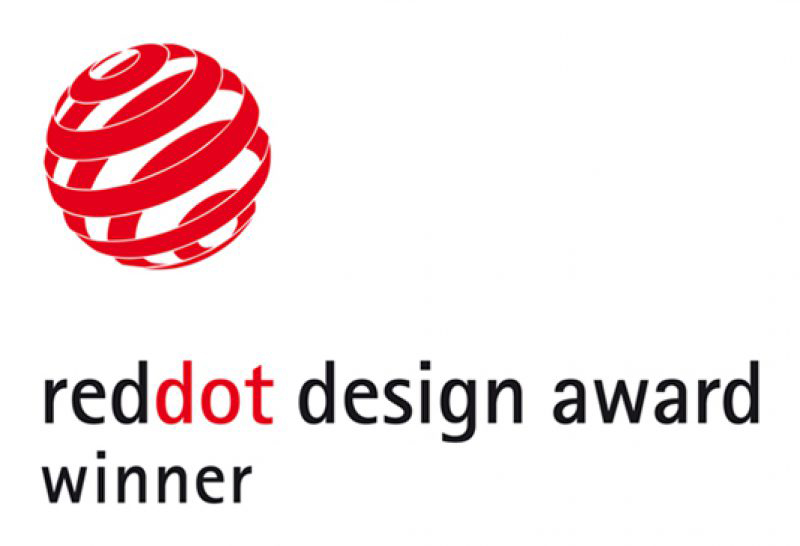 Red Dot Design Award winner
Exact tools PipeCut 220E, 280E and 360E machines were granted the red dot design award. The red dot is a renowned distinction for high design quality. A jury of international experts consisting 37 members evaluated 4662 submissions from 54 countries. The jury awarded the coveted quality seal only to products which significantly set themselves apart from other products due to their excellent design.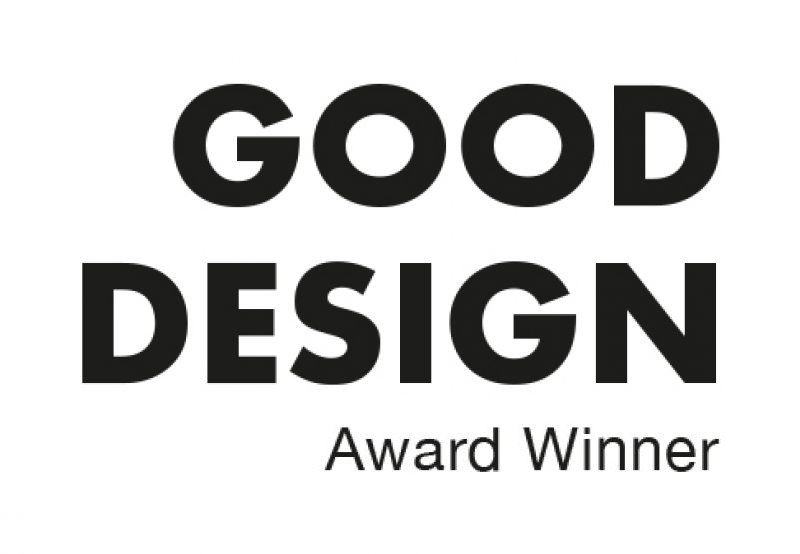 Good Design Award winner

The Chicago Athenaeum Museum of Architecture and Design and Metropolitan Arts Press Ltd. present the Museum's annual GOOD DESIGN Awards Program for the most innovative and cutting-edge industrial, product, and graphic designs produced around the world. Exact PipeCut 220E was awarded with this prestigious award.
Safety & Sus­tain­­­­abil­i­ty
Personal safety
Occupational safety is the fundamental of Exact Tools. In fact, it was one of the main objectives for developing the concept. The personal safety is superior to all other power tools.
The reasons behind the good personal safety lies within the good construction (gripping unit) and well-designed blade guard. The saw blade is located inside the blade guard, and it is only visible during cutting. The machine is always tightly gripped on the pipe during working process. This ensures that the cutting saw blade is limited to a very controlled area, and even if a breakdown of the machine or blade would happen, the range of motion is designed in a way that the operator is not affected, as long as safety instructions are followed correctly.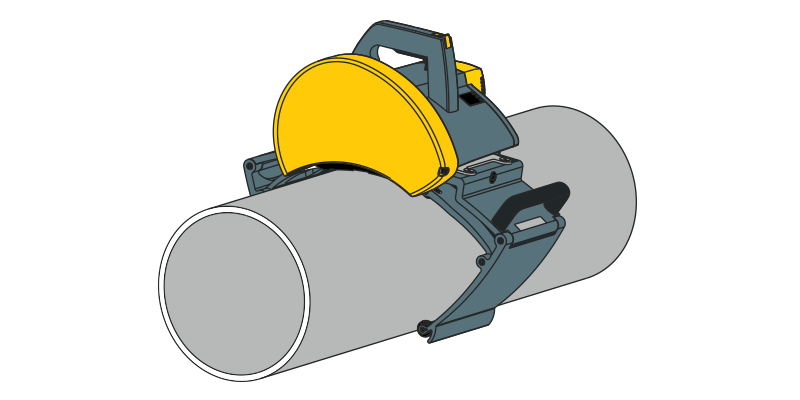 This was contrast to dangerous angle grinder which poses a real danger in case of an accident – and unfortunately, these accidents happen occasionally.
Knowingly there are no reported cases of serious (or even minor) injuries caused by Exact products.
Energy consumption
Exact is the fastest and most effective pipe cutting system on the market. The short time required to cut the pipe results in minimal energy consumption. Usually an Exact saw is 8-10 times faster than for example an angle grinder.
Absence of small particles
Exact products produce only a minimum amount of small particles to the surrounding air on job sites. This is a tremendous improvement for the air quality. Being a major health benefit to the operator, also others in the same job site minimize the inhaled amount of health hazardous small particles.
According the medical research small particles are very serious risk for your health.
Fire safety
Exact products do not produce excessive sparks like angle grinder. The chips from cutting drops below the saw and stays in the user's field of view. It is easy to control the chips and avoid all fire risks on the job site.
Light working and minimal work strain
All Exact products are lightweight and easy to handle, move and operate. Most of the heavy-straining work is avoided thanks to the clever concept of Exact gripping unit that is part of every Exact machine.
There is no other machine that is as portable and yet lightweight to use by its concept.
Environment
Most Exact machines' parts are recyclable. Separate recycling of used products and packaging support recycling and recovery of materials. Reusing recycled materials helps preventing the pollution of the environment. According to local regulations it is possible to deliver household appliances to municipal rubbish depositories or to the dealer when purchasing a new product.
References
"A real timesaver."
"We use the Exact 280 pipe cutting saw daily. We cut sleeves anywhere from 3" schedule 40 to 10" schedule 40 steel pipe. Cutting pipe to be grooved later is fast and the new saw always cuts square. There is no grinding and it's always a nice clean cut. A job foreman will call the prefab shop and ask for pieces to be cut, no time wasted setting up a hydronic cutter for 2 cuts. We just grab the Exact from the gang box and cut what we need. Whether it is 2 pieces or 25 pieces, it's a lot quicker with the Exact. This tool is a real time saver."
Dave Brown, Foreman Granite State Prefabrication Shop Weare, NH
"Extremely easy to use."
 The Exact Pipe Saw is an extremely easy tool to use and requires minimal layout and set up. It is also convenient that the saw is adjustable and able to cut through various sizes of pipe. Another plus is that this saw cuts at a nearly perfect straight cut each time, making it more dependable than even some of our table saws. It is lightweight and easy to use, which comes in handy on the road as well as in house. The roller stands for the pipe are also incredibly convenient and lessen the chance of injury since the pipe to be cut does not have to be lifted very far off the ground to be placed on the stands. Overall, we are very satisfied with our purchase of the Exact Pipe Saw and would recommend this tool based on its performance and ease of use.
Bridget McCartney Bay State Industrial Welding & Fabrication, Inc. Hudson, NH
"The Exact saw is the most efficient way to cut pipe, either in the bench or cutting in the field the speed and quality are unmatched. We own several Exact saws and cutting by any other method feels barbaric."
Ross Taylor, R H Taylor Mechanical – Ohio
"We use Exact PipeCut 410E and Exact PipeCut 170E System. Effectivity of our production processes depends on pace which we can cut pipes made from different materials (steel, stainless steel and plastic pipes) and with wide range of diameters. We have chosen Exact's professional solutions because of their versatility, time-saving features and ability to keep continuity of production process. We recommend these devices to every company in installation industry, which is involved in large and demanding projects."
Mr. Jakub Stanieczko – Chairman, PHU Stanieczko Sp. z o.o. Sp. k.
"Thanks to Exact, our work has become easier, the cuts are more accurate, the machine has more protection and does not generate sparks or chips. It is also safer for the whole working environment/jobsite. We use Exact PipeCut 170E with TCT 140 saw blade. We are an industrial machinery installation and maintenance company making fire exhaust pipe installations. We recommend Exact machines to all companies and individuals that work within industrial maintenance and work with pipe installations."
MDO Ingeniería, Montevideo, Uruguay
"Once you've tried Exact, there is no turning back"
Arttu Starkki, plumber
"Extremely fast and easy method to use."
"Exact is extremely fast and easy method to cut acid-proof stainless steel pipes. The cutting method guarantees an accurate, straight pipe cut surface, which is important for us as we weld flanges to the pipe ends. We produce cryostats – devices used to maintain low cryogenic temperatures of samples or devices mounted within the cryostat. Our devices are used in the development of quantum computers, but also for basic research of physics at universities, research centers and companies. Compared to traditional "permanently fixed" circular saws, Exact pipe saw is tremendously faster and thus suits a lot better in single unit or small series production. We can recommend using Exact pipe cutting method for small series production in both industrial production environment and jobsite circumstances."
Bluefors Oy, Helsinki, Finland
Our Story
No major innovations were made for decades, now we make innovations decades ahead of time
The initial company was founded in 1993, Headquartered in Finland to this day with offices in the USA. From idea to life – The multi-award winner Exact concept springs from the end users' desires and was nurtured from the absence of a pipe cutter that could cut pipes accurately, safely and fast – yet being lightweight and portable. Before the introduction of the Exact pipe cutting system there had been no significant innovations in pipe cutting practices for decades. Workers often had to use an angle grinder that is not only inaccurate and slow but is also a fire hazard.
Our purpose is customer-oriented approach in bringing better pipe cutter tools and making pipe cutting easier and more productive. The core of our business model has been based on our customers' demands from our first product to this day and our whole product development is based on the voice of professionals, your voice. From life to the next level – Now 20+ years and 20 000 happy customers afterwards Exact Tools has developed, and continues to develop, countless solutions to bring more advanced power tools for pipe cutting and bevelling for high demanding conditions.
2020
20 YEARS & 20K+ HAPPY CUSTOMERS
Exact Tools has developed, and continues to develop, countless solutions to bring more advanced power tools for pipe cutting and bevel-ling for high demanding conditions.
2017
HIGH END PRODUCTS
After many successful years of bringing quality power tools to the pipe cutting industry, it was time to enter the high-end product industry and industrial sector. More advanced technology for electronics, motors and mechanisms. As a result, the most advanced products are and will be launched. The outcome of the decision is our Pro Series product family and AIR series.
2012
EXACT BRAND STRATEGY
The brand strategy was changed to more customer-oriented approach from the previously used private label model. The focus is now solely in developing and improving Exact brand and listen to our customers' voice more than ever before.
2001
REGISTRATION TO EXACT TOOLS
The company started focusing on plumbing tools to make revolutionary power tools for plumbers & provide better solutions for the whole industry. The Exact concept was released, and so was the registration of Exact Tool.
1993
INITIAL COMPANY FOUNDED
Initial company For-Man Trade Oy was founded in 1993. The main focus was trading of high-end blades
Contact us
Leave a note – our customer service will get back to you soon.