A brief introductory of Exact blades and how everything works
Exact has a wide range of specially designed saw blades and diamond discs for Exact PipeCut saws.
These blades are designed to provide a cutting solution for all the pipe materials we announce to be possible to cut with our machines. This means almost all, if not all pipe materials, can be cut with our solutions.
Some pipe materials are very straightforward to cut and it does not have many affecting factors. Then again, some other pipe materials have more affecting factors in terms of the pipe cut outcome and naturally need a special blade for seamless cutting results. An example of this type is plastic and stainless pipework.
This guide is designed to give an overview and a deeper dive into the capabilities of our blades, machines and how they work on various pipe materials.
The best practices and compatibilities can be found following this guide. The specifications in this guide are defined by the typical use cases as that covers the most usage and guidelines are more applicable for the equivalent. These are to give a strong direction to the given subjects, but as stated above, are to be considered in relation to your own unique situation and use case, which might vary more or less from the general approach of this guide.
If you are unsure or need help, please discuss with us to ensure the correct solution to your needs. We are always happy to help you.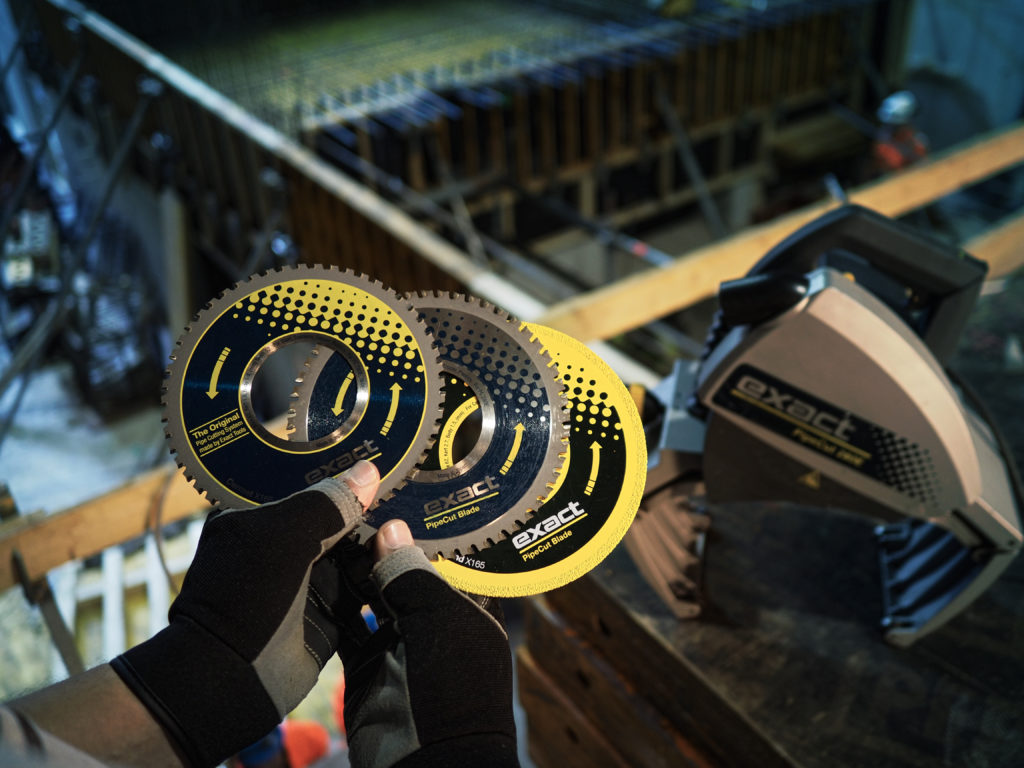 Choosing the right Exact blade/disc to the right Exact machine
Please note
Exact PipeCut and Cut+Bevel machines are usually supplied with one (1) default blade. For pipe saws it's usually TCT saw blade, and for PipeCut+Bevel machines it's usually a diamond disc.
Choosing the right blade is crucial for successful pipe cutting results. Choosing the right blade results in straight, clean and seamless pipe cuts.
Cutting with an unsuitable blade can cause severe damage to the blade, pipe and machine. We want to avoid that, right? Yes, so.. 
Due to the nature and variance in pipe cutting needs, most blades are separately orderable as per your needs. We want to keep the costs at minimum – so you as our user will only pay for what you really need. Everyone wins.
Generally Exact blades and discs can be categorized for the following pipe materials:
Cermet and INOX are especially intended for challenging stainless steel pipe cutting, naturally also suitable for regular steel materials. INOX saw blade is the premium version of Cermet.
TCT is the most general Exact saw blade, that is included with most pipe saws in the standard equipment. This blade is the most suitable for regular steel, easier plastic types, aluminum and copper.
TCT P is the way to go, when you want to cut both soft and hard plastic materials. TCT is similar to TCT in terms of the blade material composition, but has specifically designed teeth and teeth spacing. 
ALU saw blades are meant for aluminum (initially designed for), and plastics (later discovered to work well on HDPE and especially thick-walled plastic pipes). The reasons are similar to TCT P.
Diamond X is as the name states, diamond  disc. These are intended only for cutting of cast iron, ductile (nodular cast iron), Glass fiber etc. Works also on multi-layer pipes containing these pipe materials.
Diamond Cut Bevel disc is very similar to Diamond X, with the biggest difference being that this cut bevel disc can.. surprise, surprise: Cut and bevel pipes in one process. Please note, only some machines can be mounted with this special disc.
Cut bevel disc (regular) is similar to the above disc, meaning that this blade type is capable of cutting and beveling pipes in one process. However, regular cut bevel disc is only suitable for plastic pipe materials. Please note, only some machines can be mounted with this special blade.
Exact blades' fundamentals for compatibility
Please read both sections below!
• Recommended compatibility
• Technical compatibility
Recommended compatibility, blades for the most optimal cutting results
Exact blades' compatibility has two main fundamentals, and it's important to understand the fact that although you can technically mount many of the Exact blades on several machines, it does not necessarily mean that you should do so. 
For this reason we have gathered information here to help you with selecting the right blade to your needs, while showing the technical truth of what blades can be mounted on which machines.
Please read both sections to get a full understanding of the overview.
First, here you will find the recommendation chart for blades and pipe materials.

Recommendation chart for blades

1 = Most suitable
2 = Suitable
3 = Suitable, but not recommended

Empty space = Not suitable OR only for special application(s)

BLADE TYPE
Steel
Stainless steels
Cast Iron & Ductile (nodular cast iron)
Glass fiber
Aluminum
Copper
Multi-layer plastics
Plastic PP
Plastic PE
Plastic PVC
Plastic HDPE
TCT
2
3
2
2
3
3
3
3
3
TCT Z
2
3
2
2
3
3
3
3
3
TCT P
1
1
1
1
1
INOX
1
1
2
3
3
3
3
3
CERMET
1
2
1
3
3
3
3
3
CERMET V
1
2
2
DIAMOND X
1
1
3
3
3
3
3
ALU
1
1
1
1
1
1
CUT BEVEL BLADE (FOR PLASTIC ONLY)
1
1
1
1
1
DIAMOND CUT BEVEL DISC
1
1
3
3
3
3
3
Why are some of the fields empty?
This is due to some combinations for blades and intended pipe materials are not straightforward. Some of the reasons are:
• Simply not being suitable for the pipe material
• Not having enough cutting test data
• Conflicting cutting results
• Pipe wall thickness 
Technical compatibility in terms of fitting in measurements
This means that all the blades that can be actually mounted on a specific Exact machine, from a technical viewpoint.
This does not necessarily mean that all the blades that can be technically mounted on the specific machines should actually be done so. The reason is simply that some blades produce significantly better results while mounted on their designated machine. 
What blade size should be selected, if several sizes can be chosen?
General rule of thumb is that when the goal is the most optimal pipe cutting results with as long blade life as possible, you should choose the smallest possible blade size suitable to your needs.
Although being a good idea to pick a larger diameter blade size (than what you really need) to cover possible future needs, this might hinder the said two other things.
Ultimately this is a decision to be made between optimization: pipe cuttings results and short-term costs.
In the long-term operation it's more cost-efficient to have several blade sizes and use the smallest diameter needed by the ongoing pipe cutting project. Although blades are designed to be as long lasting as possible, eventually the blades will wear out in use. For this reason it does not hurt to have several blade sizes, and it will be long-term cost-efficient in addition to providing better pipe cutting results.
ALU, TCT P, or something else for plastic pipe cutting?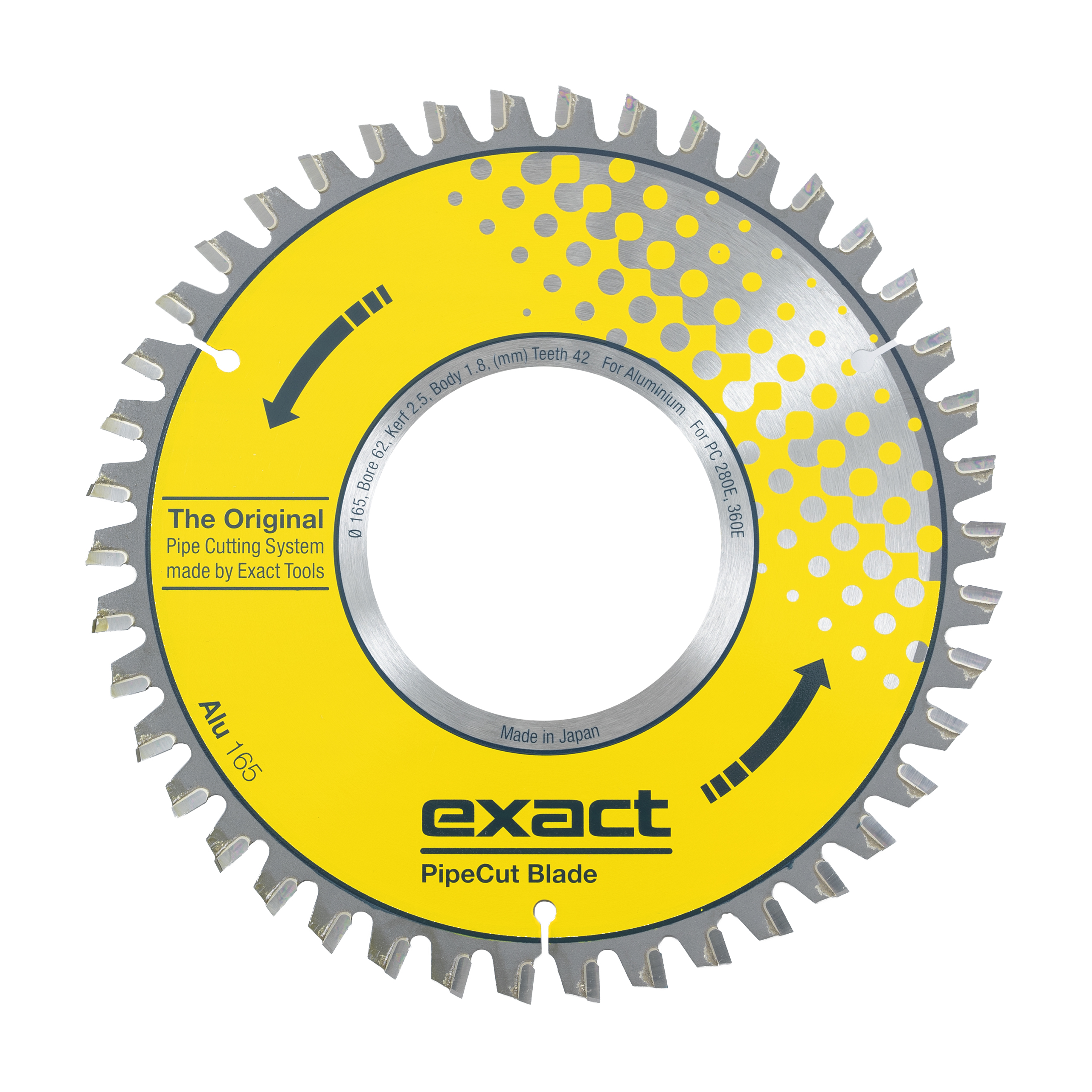 ALU blades for plastic pipe cutting
This blade type was originally invented for aluminum pipe materials (hence the name), but was later discovered to work fairly well for plastics. 
Suits best for: Best suited for soft plastic materials. Suits also well for thick-walled plastic pipes.
Why: The blade teeth are larger and the blade teeth spacing is larger (more room for the larger pipe chunks, thus not clogging so easily while cutting).
TCT P blades for plastic pipe cutting
TCT P blades are specifically designed for plastic pipe cutting. This blade type provides the most all-around cutting for soft and hard plastic materials.

Suits best for: Suits well for soft and hard plastic pipe materials.
Why: The blade teeth are also larger than in typical TCT and the spacing is also larger, that drives the same purpose as ALU blade.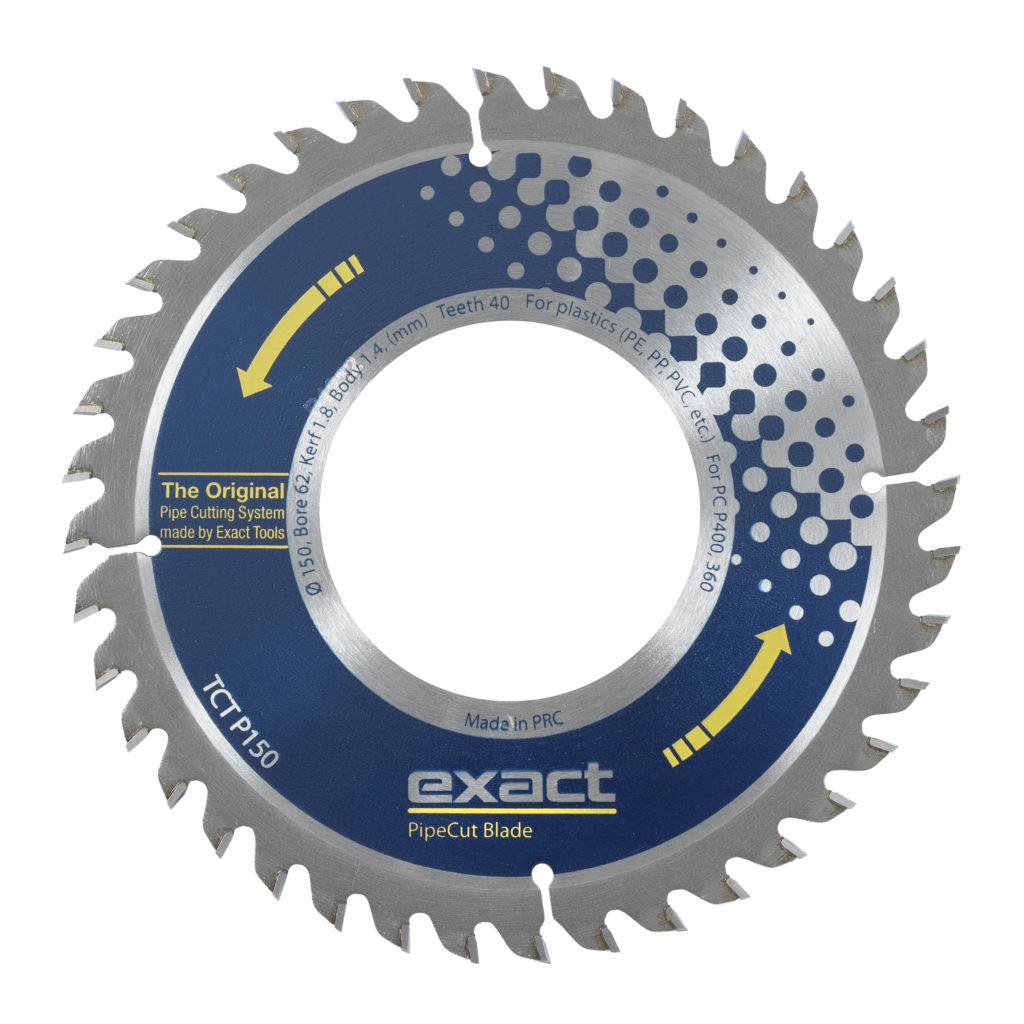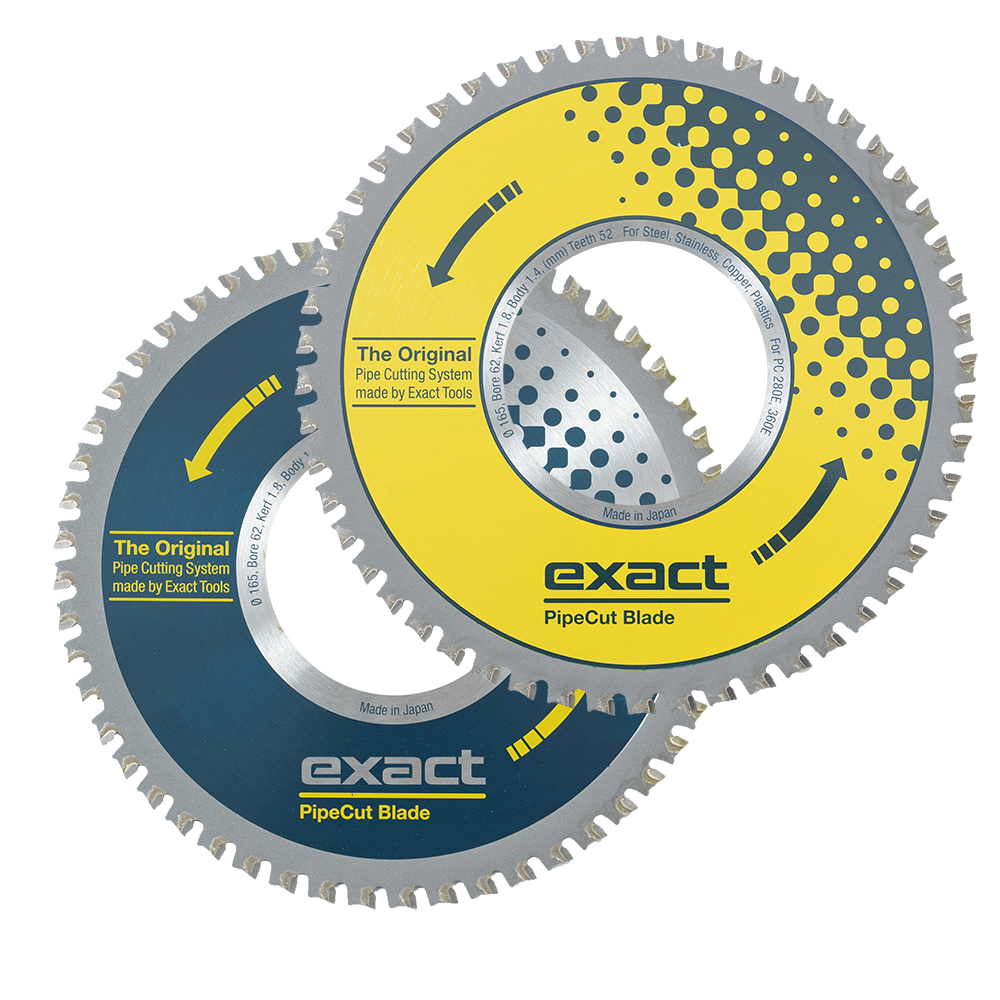 TCT (regular) & Cermet blades for plastic pipe cutting
Technically and generally suitable for plastic pipe cutting, but not the most optimal solution for it. Although the regular TCT and Cermet blades' teeth material is similar to the TCT P, the teething is very much different in terms of shape, size and spacing.
The spacing between blade teeth is smaller than on TCT P and on ALU blades. For that reason, pure plastic pipe cutting is recommended to be done with either TCT P or ALU blade for the best possible results.

Suits best for: General or seldom use.
Why: While the blade's material composition is suitable for piercing plastics easily, the teething is not optimal for plastic cutting and might cause clogging or inaccurate cutting results.
Other blades for plastic pipe cutting
Technically and generally it's possible to cut various plastics with some other Exact blades. For demanding plastic pipe cutting, though, we do not recommend that. The reason is usually the same. The blade teeth shape, size and spacing is not optimal for the cutting process that generates a large amount of fairly large plastic chips. These large plastic chips tend to clog the blade guard easily. Additionally, the cutting result might not be optimal. 
Ultimately these are factors to be judged by your pipe cutting needs.
Theoretical cutting depth charts with different Exact machines
Was something missing? Want to order blades? Something else?
Send a message!